Google recently announced new Google My Business features that will help you boost your business's visibility and attract more customers. The new features include: an enhanced visual profile, the ability to distribute offers, shortcut links to your business listing, free marketing assets, and last but not least, a 'Local Favorite' badge for top businesses that consistently deliver a great experience. Learn more about these features below and see how they can boost your business.
Today, when people search for businesses, they're on the hunt for something more specific–like "late night restaurants near Washington Square Park" or "rooftop happy hour with great cocktails." And they're  looking to get more things done–whether that's booking, a reservation, or asking what products a store offers. ~ Google
Take Control of Your Visual Branding
Google released three new features that give your business control over how your brand appears to customers and prospects. While Google My Business currently supports adding photos, it has always been difficult to control which photos display and where, until now. With these new photo features, you now have control over the appearance of your Google business listing, similar to your Facebook business listing.
1. Cover Photo
In the past, it was possible to upload a cover photo, but Google often randomly selected other uploaded photos as the cover. Now you can easily select which photo appears as the main cover photo on your listing and be in full control of your visual branding.
2. Logo
You have an additional branding opportunity with the logo feature. If you have added your core business information (phone number, hours, etc), your uploaded logo will be displayed at the top right-hand side of your profile.
3. Photo displays
Photos you upload to Google My Business will now appear instantly and prominently on a new dynamic module on your Profile. Photo captions, which are coming, will let you tell the stories behind your pictures. This could be a great way to display and describe your menu items, or make a personal connection by featuring your hardworking staff.
Engage with Customers Easily with Short Names
You can now claim a short name and URL for you business (I.e. @YourBrand). With this URL, you can easily refer customers back to your business listing to see updates, book appointments, or write a review. In the coming months, people will also be able to search for your short name in Google Maps.
If you haven't claimed a short name, go to your Google My Business dashboard and claim yours now. Make linking to your listing and reviews even easier.
Attract Customers with Welcome Offers
As Google mentions in the announcement of these new features, "We've found that more than half of online customers are looking for an offer or discount."
Now you can reward customers who follow your business on Google with a welcome offer. Once a customer follows your business, they can automatically receive offers from your business that get saved in their Offers Folder. Offers are distributed as codes that can be used online or in-store, so it will be easy to track how well your offers are performing.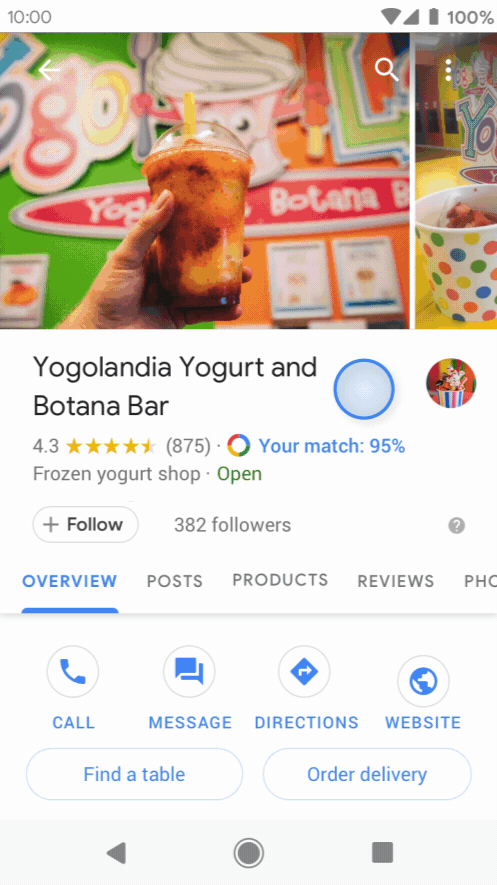 Easily Share Your Positive Reviews on Social Media
In addition to the new Google My Business features, Google launched a Marketing Kit website where you can quickly generate content from your positive reviews or business info and share on social media, among other things.
Information is pulled directly from your Google reviews and automatically generated into content that is ready to share. You can share to your social media pages directly from the Marketing Kit website. Sharing positive reviews will encourage more reviews and more followers.
Businesses that get a lot of positive Google reviews will benefit most from this new feature.
Get More Customers with Local Favorite Feature
As a part of this launch, Google is highlighting the top 5% of businesses in select categories with a 'Local Favorite' classification. To help people easily find and engage with these businesses, Google is creating a digital and physical badge of honor. Google will be releasing more details on these recognition categories soon.
We expect reviews and star-ratings to be a big factor in which businesses make the cut as a 'Local Favorite',  which makes your online reputation all that more important to your success.
If you have a business with one location or one thousand locations, it's important that you take advantage of all these new Google features.
More importantly, it's critical that you focus on your online reputation. Google will be making your business and your competitors easier to find and engage with, so the businesses with the best star-rating and most reviews will now get chosen even more.